The first AMD Ryzen Threadripper 3990X specimens started appearing on the PassMark database with amazing results. The monstrous 64-core CPU has positioned itself at the top of the ranking, distancing Intel's closest rival, the Xeon W-3275M, by several points.
PassMark is certainly not the first benchmark to record dizzying scores for AMD's proposal: numerous databases have positioned the muscular CPU at the top of the rankings. Ryzen Threadripper 3990X, in the PassMark synthetic test, scored a score of 55 thousand points, exceeding Intel's proposal by more than 20 thousand points.

Intel's Xeon solution is positioned only in eighth place, far surpassed by the AMD Ryzen Threadripper 3000 series, AMD EPYC 7000 and Ryzen 9 3950X processors. To find the first results obtained with Intel Core processors, it is necessary to scroll decisively down to the 16th position with the Core i9-10980XE. Although Ryzen Threadripper's flagship proposal reaches $ 4000 in price, it is not configured as the most expensive solution: Intel's Xeon processor widely exceeds $ 7000, making the AMD processor almost advantageous and with an enviable price / performance ratio .
To underline the score obtained by the Ryzen Threadripper 3970X, capable of recording over 48 thousand points at a price halved compared to the top of the range solution. We believe that the Ryzen Threadripper 3990X score is not definitive and probably limited by a partial compatibility by PassMark. In addition, the scores currently included in the database are only four and a large number is required to draw up an average of the scores.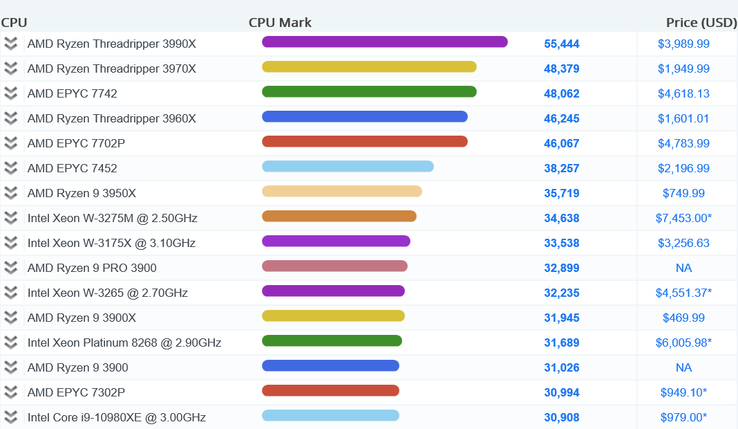 Do you still need business laptops about more