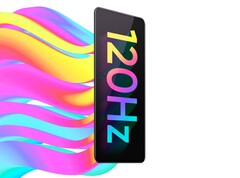 The smartphone portfolio is becoming increasingly confusing. While the Realme X7 series and more midrange models of the Realme C family were recently in the foreground in this country, the Realme X7 series and Realme X7 Pro are now being announced in China. Here the Oppo offshoot relies primarily on 120 Hz displays and the new "C-Design"
Realme is growing rapidly around the world, mainly due to the low price level, but perhaps also because the market is being flooded with new smartphones. While the smartphone portfolio looked quite manageable two years ago, there are currently five different smartphone series on the European homepage of the Oppo branch, and the names are becoming more and more confusing.
The X series at Realme actually stands for flagship, for example in the form of the X50 and X50 Pro, the latter currently costs from 565 euros on Amazon). The Realme X2 and X2 Pro from last year were followed this year by the semi-flagship X3 Superzoom and now Realme is jumping straight to seven. So there shouldn't be a Realme X4, X5 or X6, at least we hope so, otherwise the offer will be even more complicated.
In any case, a duo of Realme X7 and Realme X7 Pro will be launched in China on September 1st, which should convince with a new "C-Design" and 120 Hz display, the teasers below do not reveal more. It could be the new Realme phone that the Leaker digital chat station already a few days ago with 6.43 inch FHD + OLED, 32 megapixel punch-hole selfie cam and rear quad cam with 64 megapixel main camera as well as 8, 2 and 2 megapixel sidekicks as well as Snapdragon 765G and 4,300 mAh battery with 50/65 watt fast charging had predicted.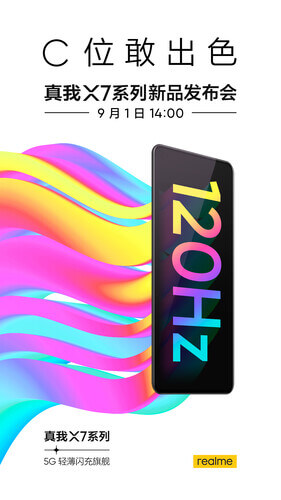 Is the Realme RMX2176 the X7 or X7 Pro?
Fittingly, a new Realme phone with the model number RMX2176 recently appeared at the Chinese certification authority TENAA, to which these specifications fit well and which is currently "traded" as the Realme X7. The pictures below are from the authority and could therefore be the first pictures of the Realme X7.
source:Realme Weibo via Sparrowsnews