Samsung announced today that the technology giant from South Korea has started mass-producing UFS 3.1 Samsung memory chips. Compared to UFS 3.0, you can count on triple the speed and capacities up to 512 GB.

In the press release, Samsung promises to have expanded the performance limits of smartphones with the new UFS 3.1 memory. In fact, the sequential write speed of 1,200 MB / s is significantly faster than that of UFS 3.0, where it was "only" 410 MB / s.
However, this upgrade should only be of limited relevance for most users if, for example, a huge amount of data is transferred from a laptop to the smartphone or if you want to transfer all data via cable from your old smartphone to your new one. The sequential read speed remains unchanged at 2,100 MB / s.
For this, the speed when reading very small data (random) was increased from 63,000 IOPS to 100,000 IOPS, which could make a smartphone react noticeably faster. This difference is significantly smaller when writing – UFS 3.0 achieved 68,000 IOPS here, UFS 3.1 still manages 70,000 IOPS. Since Samsung memory chips started the production of its UFS 2.0 chips in January 2015, the progress has been gigantic – from 250 MB / s reading speed to 2,100 MB / s, from 11,000 IOPS to 100,000 IOPS.
The UFS 3.1 memory chips are available in 128 GB, 256 GB and 512 GB capacities. Together with the Nonacell 150 megapixel sensor, Samsung will soon be making enormous progress for flagship smartphones, so that an upgrade could be worthwhile in a few months.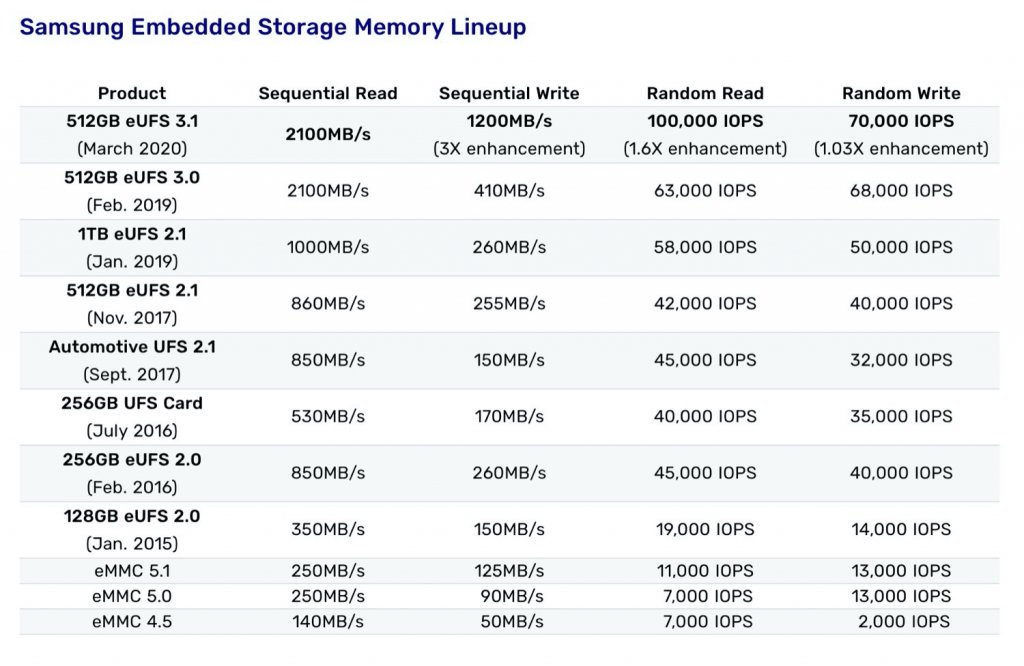 source:Samsung