The upcoming Ryzen 7 4800H can once again be found in Geekbench results – and now also in version 5 of the well-known benchmark. The APU is surprisingly good in terms of single-core performance, but can outclass the Comet Lake i7-10750 and the i9-9980HK, especially in multicore applications
Tum Apisak has found some additional information related to the Zen 2 AMDRyzen 7 4800H. The chip is expected to be released in early April by Asus notebooks from the TUF gaming brand. We have already reported on the performance of Ryzen 4000 chips in Geekbench in version 4 and compared to the Core i7-10750H and i9-10980HK, with new benchmark results now appearing. Specifically, the new values ​​were created in Geekbench 5.
The Ryzen 7 4800H achieved 1,196 and 1,198 points in two separate single-core benchmarks; the test of all cores reached 8,370 and 8,390 cores respectively, although these values ​​are quite impressive in comparison to Intel chips. The Core i7-10750H, which is equipped with only six cores, has to admit defeat to both the Ryzen chip and the Core i9-9980HK in the multi-core test, but can also beat the i9 with 1,258 points in the single-core test and claim its 1,248 points. The Ryzen chip is beaten, but the gap is small.
Unsurprisingly, the i7-10750H has a lot of flex in the multi-core test and only manages 6,437 points, the Core i9-9980HK reaches 7,268 points – the Ryzen 7 4800H is around 1,000 cores faster. This means that users of multi-core applications in particular should benefit significantly from the Ryzen 7 4800H, whereby the actually achievable and, in particular, permanently available performance depends on the cooling.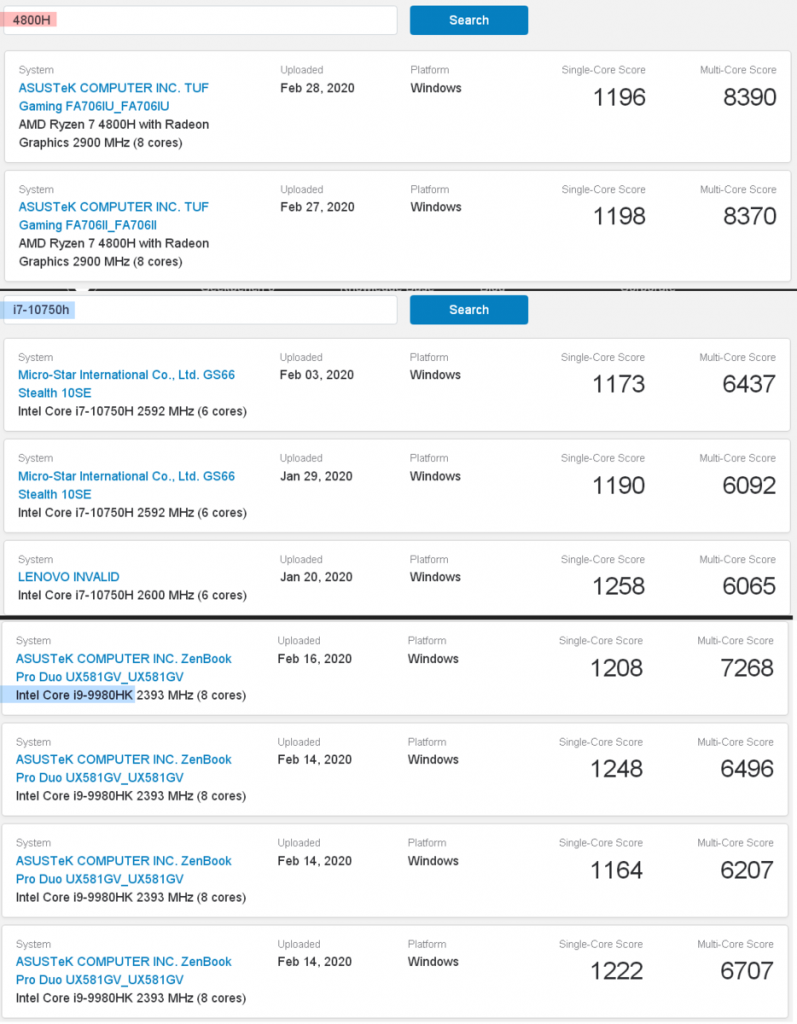 Source: