The launch of Google's new AirPods and Google Pixel Buds competitors is getting closer. The inconspicuous TWS with active noise suppression at an attractive price should come onto the market in early 2020, the signs of an early start of sales are now piling up, with the WPC entry also revealing a few new details.

Google introduced the latest generation of Pixel Buds last October. In order to take on Apple's AirPods Pro (approx. 279 euros on Amazon), the completely wireless in-ears come with active noise cancellation and interesting features such as the possibility of amplifying your own voice during a call while suppressing the other outside noises .
In January the TWS were already tested at the Bluetooth SIG, namely under the model numbers G1007 and G1008. At that time it was not entirely clear what these model numbers stand for, but with the new entry at the Wireless Power Consortium this is much clearer, because here the model number G1013 is given. Since the charging case is the only part with a Qi-compatible charging function, it should be clear that the model number stands for this, the two numbers given above should therefore relate to the left and right earphones.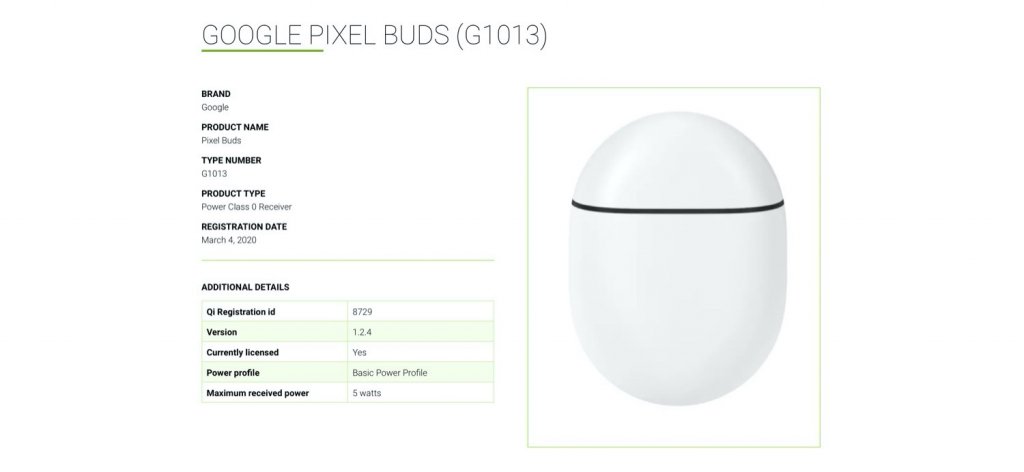 However, it is much more interesting to state that the Pixel Buds can "only" be charged wirelessly with 5 watts. In a world in which wireless chargers can reach 60 watts, this seems downright puny – considering the probably tiny battery, the time for a full charge could still be reasonable. In addition, they can probably be charged via reverse wireless charging by simply placing them on the screen of the Google Pixel 5.
It is interesting that the Qi certification for Google products has so far only ever been published after the start of sales. Now that Google I / O 2020 has been canceled, it is still unclear exactly when the $ 179 TWS will go on sale, but it should not be long.
source:WPC, via 9to5Google